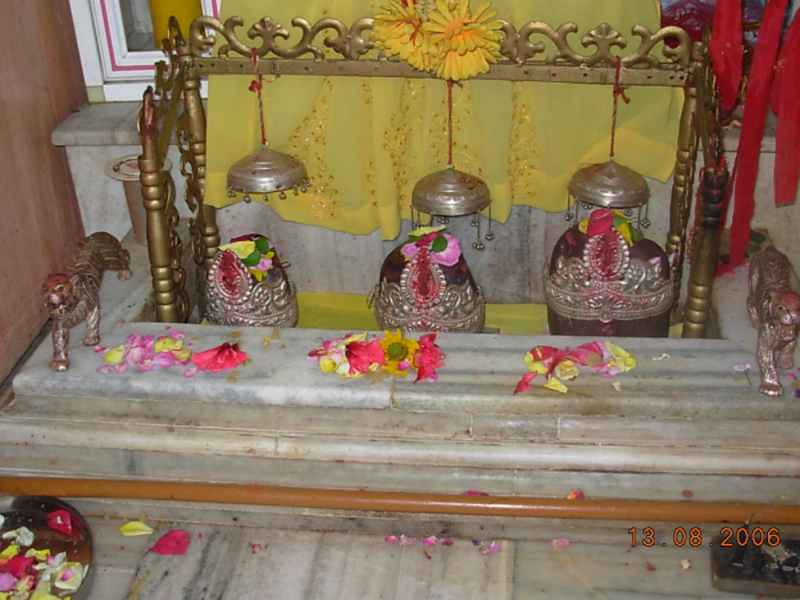 HISTORY
Kamakhya temple is dedicated to Goddess Sati, an incarnation of Durga, according to ancient Indian scriptures. One of the 51 'peethas' or holy spots, Kamakhya temple is also known as 'yoni–peetha'. Every year, beginning on the 7th day of the Indian onth of Ashaad (June-July), Kamakhya temple observes a Unique festival called 'Ambubachi' when, it is believed, the goddess menstruates. The festival draws a large number of pilgrims to temple.
Legend is that despite her husband Lord Shiva's disapproval, Sati had gone to attend the universal 'yajna' organised by her father Daksha. Shiva was not invited, and was also abused by Daksha. Unable to bear the insult, Sati committed suicide. Upon hearing the news , Shiv arrived on the scene, picked up the body and began a dance of destruction. Vishnu tried to pacify Shiva: the body was cut into 51 parts. The spots on earth where each part fell was identified as 'peetha'.
But the place where her uterus fell was not known till the god of love, Kamadeva, searched it out to rid himself of a ceratain curse of Brahma's. Kama regains his body here. The place came to be known as 'Kamarup' and the presiding deity as 'Kamakhya' or one worshipped by Kama.
Originally this temple is at Kamakhya Hilltop in Guwahati, Assam.The Temple was rebuilt in 1665 after being destroyed by Muslim invaders, but its origins are much older than that. It was probably an ancient Khasi sacrificial site, sacrifices are still very much part of worshiping here.
The resemble stones of sidh peeth of the shrine were brought to the village by the brahmin in late 20's after which the small temple was being built for MATA Kamakhya ji, here in Polian Prohitan. Later the popularity of the temple increased and today it is being worshipped as the resemble for the original temple in Himachal Pardesh.
You can feel the true peace and aura at this sacred place. Please do visit the place to experience the glory of the worship.
To know for How to Visit please click here: